The Star Gold Coast – Bell Legal in Macau
Wangzhang Chew ('JC') in Macau
Bell Legal Group commercial solicitor and registered migration agent Wangzhang Chew (known to all as 'JC') has been in Macau of late helping to promote the Gold Coast and investment opportunities in Queensland.
JC was recently a speaker for the launch of the new residential towers 2 to be built at The Star Gold Coast.
The event was hosted by Sea & City Australian Investment Pty Ltd, The Star, Far East Consortium, and Chow Tai Fook Enterprise Limited in the Parisian, Macau. The master agent is YPM Group and Bryce O'Connor (Managing Director) were at the event too.
JC and his fellow travelling presenters are aiming to attract business migrants to Queensland and attract investments to Queensland.  In collaboration with BSMQ and other local agencies seminars are being hosted in different cities: Beijing, Jinan, Wenzhou, Guangzhou, Shenzhen, Hangzhou, Shanghai, Qingdao, and Zhengzhou. The main organiser is Sea & City.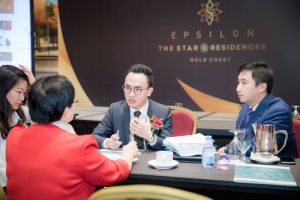 During the trip to Wenzhou, an agreement was discussed so as to connect Wenzhou city with Queensland State Government to officially attract investors to invest in Queensland.
If you would like to know more please connect with JC by email: WChew@belllegal.com.au