Enduring Powers of Attorney: Pitfalls and Urban Myths

12 March, 2018
Estate Planning, Estate Administration and Disputes, Trusts and Superannuation
Power of Attorney
uncategorized
Seminar presentation by Bell Legal Group
On 9 March 2018 John Fradgley and Dan O'Connor of Bell Legal Group's Wills, Trusts and Estate Planning team hosted a seminar focusing upon Enduring Powers of Attorney: Pitfalls and Urban Myths.
The breakfast seminar was held at the beautiful Southport Golf Club and dealt with this deceptively tricky and complex area.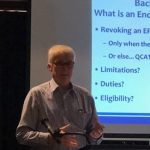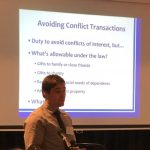 Topics covered
John and Dan discussed how Enduring Powers of Attorney may relate to:
Superannuation
Self-managed Superannuation Funds (SMSFs)
Partnerships of Individuals
Directors of Companies
Shareholders
Trusts
Importance of Legal Advice
Despite the perception that Enduring Powers of Attorney are relatively straightforward documents, the seminar highlighted some risks and unintended consequences that may follow by using them. It is important to consider all of the ramifications for your family, business and professional activities.
The best way to ensure that the Enduring Power of Attorney does what you intend it to do is to get expert legal advice from the outset. Drafting special provisions tailored to your needs can prevent serious legal issues and great expense later on.
Free information from the Seminar
You can access a copy of the PowerPoint slides from the seminar here
You can access a copy of Dan's more detailed paper about Enduring Powers of Attorney here.

Disclaimer
This article and the attachments to it are general in nature. It is not legal advice and should not be relied upon as such. To obtain legal advice and help regarding Enduring Powers of Attorney specifically tailored to your situation please contact Bell Legal Group's Wills, Trusts and Estate Planning team on 07 5597 3366 or by sending an email to law@belllegal.com.au