GCDLA Meet the Judiciary Breakfast
Gold Coast District Law Association event
Last month Bell Legal Group were represented at the Gold Coast District Law Association's 'Meet the Judiciary' breakfast event.
Many members of the Gold Coast's legal community made the effort to get up a little earlier to meet their judicial colleagues.
Margaret Miller, Partner – Dispute Resolution, Insolvency and Litigation together with John Fradgely our Head of Wills, Trusts and Estate Planning attended the event. Pictured with Margaret and John are solicitors Matt Kollrepp and Shaun Rose.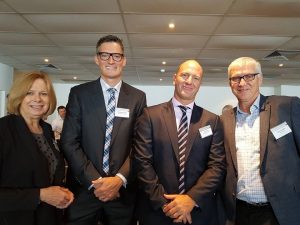 One of the judges in attendance was His honour Justice Michael Baumann of the Family Court of Australia. Before rising to the bench His honour was in private practice as partner at what is now Bell Legal Group. See Margaret's article congratulating Justice Baumann on his recent elevation from the Federal Circuit Court here.
Thanks to the committed team at the Gold Coast District Law Association ('GCDLA') for their efforts in putting on such a successful event. More details about the GCDLA can be found on their website here.