Gold Coast Hospital Foundation Ball
2018 Hospital Heroes Ball
On Saturday 4 August 2018 the Gold Coast Hospital Foundation held its annual Ball. The theme this year was 'Heroes'.
The Gold Coast Hospital Foundation is a local charity that raises money to help improve public health care and improve public health information. Funds raised are used to help local health care providers improve their services – for example by providing Cancer Patient Transport Service and Emergency Accommodation.
John Fradgley, Bell Legal Group's Head of Department Wills, Trusts and Estate Planning, is the Deputy Chairperson of the Foundation.
John attended the Ball on Saturday night as did Bell Legal Group partner Margaret Miller.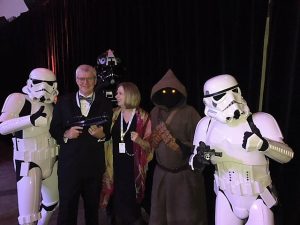 Plenty of people got into the spirit of the 'Heroes' theme for the night. As Margaret commented, "the force was with them….".