RUOK? Day 2019
Today is RUOK? Day
Today saw the Bell Legal Group team get together for a lunch to mark RUOK? Day.
RUOK? is a suicide prevention charity dedicated to promoting conversations based around the care for others who may be struggling. The organisation's by-line is  that 'a conversation could change a life' which reflects how important it is for us to look out for one another.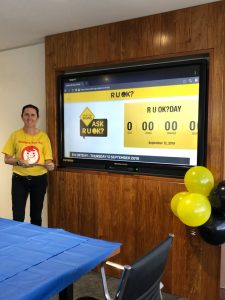 Apart from enjoying each other's company and a lovely lunch it was an opportunity for us all to listen to some of the hints and tips offered by RUOK? about what we can do when we think a friend or colleague isn't doing so well.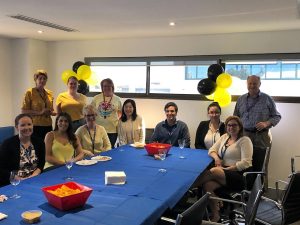 The colour yellow is associated with the charity and as you can see a number of our team members wore yellow to mark the day.
A.L.E.C.
A – 'Ask'
L – 'Listen'
E – 'Encourage action'
C – 'Check in'
In our busy lives at work and at home we can sometimes lose sight of the importance of simply saying to someone 'Are you okay?' and taking the time to talk. Following A.L.E.C. might just make all the difference to someone (and to their friends and family).
Thanks to the RUOK? organisation for all they do in raising awareness of the need to take simple steps that may help save a life.